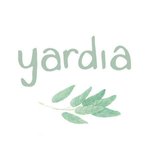 Yardia
Hi, I'm Brigida! I founded Yardia in 2008 from my home studio in Seattle to illustrate the outdoor lifestyle of the Pacific Northwest. The pioneer spirit that leads us to hike the Cascades and raise chickens in our backyards inspires my work. I paint each illustration by hand, using watercolor and ink to create colorful, pattern-rich landscapes and hand-lettered text that celebrate self-reliance, sustainability and finding joy in our connection to nature. Let me help you bring a little bit of the Pacific Northwest lifestyle into your home and correspondences. You can also find Yardia products at independent boutiques up and down the West Coast. I'm excited to work with more businesses and clients who share similar sensibilities. If you'd like to ask about wholesale ordering, custom illustration projects or other opportunities to work together, contact me via my main website: Visit my main website at http://brigidaswanson.com Instagram: http://instagram.com/yardia Yardia joined Society6 on October 15, 2014
More
Hi, I'm Brigida! I founded Yardia in 2008 from my home studio in Seattle to illustrate the outdoor lifestyle of the Pacific Northwest. The pioneer spirit that leads us to hike the Cascades and raise chickens in our backyards inspires my work. I paint each illustration by hand, using watercolor and ink to create colorful, pattern-rich landscapes and hand-lettered text that celebrate self-reliance, sustainability and finding joy in our connection to nature. Let me help you bring a little bit of the Pacific Northwest lifestyle into your home and correspondences.
You can also find Yardia products at independent boutiques up and down the West Coast. I'm excited to work with more businesses and clients who share similar sensibilities. If you'd like to ask about wholesale ordering, custom illustration projects or other opportunities to work together, contact me via my main website:
Visit my main website at http://brigidaswanson.com Instagram: http://instagram.com/yardia
Yardia joined Society6 on October 15, 2014.