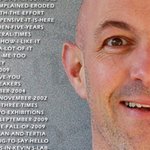 Yaron Stern
Hi There, Welcome to my journey of turning threads of inspiration into yours. The world of graphics is a vast field to explore. Ideas turn into sketches, on paper as well as on screen. They then evolve into images that engage and provoke. Enjoy my Søciety6 shelves. I hope you have a fun time. YarOn Yaron Stern joined Society6 on June 28, 2016
More
Hi There,
Welcome to my journey of turning threads of inspiration into yours. The world of graphics is a vast field to explore. Ideas turn into sketches, on paper as well as on screen. They then evolve into images that engage and provoke.
Enjoy my Søciety6 shelves. I hope you have a fun time. YarOn
Yaron Stern joined Society6 on June 28, 2016.