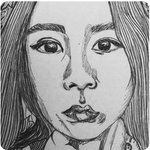 Y! chen Z
Yi Chen was born in 1987 in Taipei, Taiwan. At age 23, feeling unsatisfied with her limited life experiences, she left her home country to broaden her mind and enrich her ideas. Her style lies somewhere between realistic and abstract, expressing the fantastical worlds harbor her mind. Her works are inspired by movie quotes, slang expressions, song lyrics, and tongue twisters, as well as her personal desires and life experiences, which she holds close to her heart, whether they be happy or sad. When she paints, she is often struck with sorrow because she knows she can never go back to the moments captured in her work. The only way she can reconnect with these cherished memories is by drawing. Three predominant elements in her work: Braids, Ribbon and Bone Y! chen Z joined Society6 on February 5, 2014
More
Yi Chen was born in 1987 in Taipei, Taiwan. At age 23, feeling unsatisfied with her limited life experiences, she left her home country to broaden her mind and enrich her ideas.
Her style lies somewhere between realistic and abstract, expressing the fantastical worlds harbor her mind. Her works are inspired by movie quotes, slang expressions, song lyrics, and tongue twisters, as well as her personal desires and life experiences, which she holds close to her heart, whether they be happy or sad.
When she paints, she is often struck with sorrow because she knows she can never go back to the moments captured in her work. The only way she can reconnect with these cherished memories is by drawing.
Three predominant elements in her work: Braids, Ribbon and Bone
Y! chen Z joined Society6 on February 5, 2014.