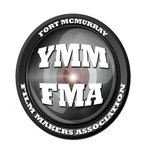 ymmfma
Formed in 2012 and officially sanctioned under the Alberta Societies Act in April of 2013, the Fort McMurray Filmmakers Association (the YMMFMA) is a Registered Non-Profit Organization. Founded by five (5) community leaders with filmmaking and entertainment experience, the YMMFMA founding members works have been recognized locally within the Regional Municipality of Wood Buffalo, provincially, nationally and internationally. Mission Statement The Fort McMurray Filmmakers Association encourages Filmmaking in the Regional Municipality of Wood Buffalo and beyond. Vision The YMMFMA presents regularly scheduled workshops and annual events dedicated to cinema. The goal is to showcase independent movies from the RMWB region and from around the world. Through entertainment, education, collaboration and production, the YMMFMA strives to establish interest in the many disciplines of filmmaking while nurturing local talent. ymmfma joined Society6 on October 16, 2013
More
Formed in 2012 and officially sanctioned under the Alberta Societies Act in April of 2013, the Fort McMurray Filmmakers Association (the YMMFMA) is a Registered Non-Profit Organization. Founded by five (5) community leaders with filmmaking and entertainment experience, the YMMFMA founding members works have been recognized locally within the Regional Municipality of Wood Buffalo, provincially, nationally and internationally.
Mission Statement
The Fort McMurray Filmmakers Association encourages Filmmaking in the Regional Municipality of Wood Buffalo and beyond.
Vision
The YMMFMA presents regularly scheduled workshops and annual events dedicated to cinema. The goal is to showcase independent movies from the RMWB region and from around the world. Through entertainment, education, collaboration and production, the YMMFMA strives to establish interest in the many disciplines of filmmaking while nurturing local talent.
ymmfma joined Society6 on October 16, 2013.
Bags by ymmfma
1 result
Filter