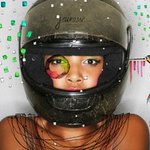 Yolanda Jo
Yolanda Jo is a Designer and an Artist who has lived in New York City and Los Angeles for most of her life. Inspired by the New York City Graffiti scene from her childhood, and the new Pop Street Art that Los Angeles has to offer, the self-trained painter and designer has applied her diverse background and experiences to create Mixed Media Art Masterpieces. This bi-coastal fusion has become the hallmark of this rising artist. Yolanda Jo is excited, and ready to show you what she has created for 2014! Take a moment to view her Website, WWW.YOLANDAJO.COM where you will discover the uniqueness of "Thinking Outside of the Box" Yolanda Jos way of viewing and telling the world whats on her mind... Enjoy the Experience. FOR INQUIRES AND COMMENTS PLEASE EMAIL JO@YOLANDAJO.COM ALSO Check Out YoJo Website for updates on Project and Events WWW.YOLANDAJO.COM or WWW.SHOPYOJO.COM Have a Beautiful Day – Jo~ Yolanda Jo joined Society6 on September 29, 2014
More
Yolanda Jo is a Designer and an Artist who has lived in New York City and Los Angeles for most of her life. Inspired by the New York City Graffiti scene from her childhood, and the new Pop Street Art that Los Angeles has to offer, the self-trained painter and designer has applied her diverse background and experiences to create Mixed Media Art Masterpieces. This bi-coastal fusion has become the hallmark of this rising artist.
Yolanda Jo is excited, and ready to show you what she has created for 2014! Take a moment to view her Website, WWW.YOLANDAJO.COM where you will discover the uniqueness of "Thinking Outside of the Box" Yolanda Jos way of viewing and telling the world whats on her mind... Enjoy the Experience.
FOR INQUIRES AND COMMENTS PLEASE EMAIL JO@YOLANDAJO.COM ALSO Check Out YoJo Website for updates on Project and Events WWW.YOLANDAJO.COM or WWW.SHOPYOJO.COM
Have a Beautiful Day – Jo~
Yolanda Jo joined Society6 on September 29, 2014.