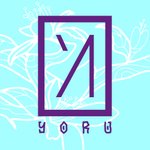 Yoru
Graphic design student now based in Finland. I like to use watercolors, make digital art and experiment with styles and mediums. Also, I would be happy to see a picture of your purchase in the interior! You can send it to my email: yoru_952@yahoo.com Yoru joined Society6 on June 27, 2015
More
Graphic design student now based in Finland. I like to use watercolors, make digital art and experiment with styles and mediums.
Also, I would be happy to see a picture of your purchase in the interior! You can send it to my email: yoru_952@yahoo.com
Yoru joined Society6 on June 27, 2015.