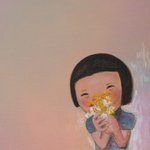 You Mee Cho ILLUSTRATION STUDIO
You Mee Cho is an illustrator and a visual artist. She is in Illustration at Parsons the New School for Design. She had several solo shows in New York and participated in many group exhibitions in New York. She is working actively as a representative woman artist based on New York area. Her work awarded New York audience award Top 10 awarded from ART STUDENT EXHIBITION IN NY, Special recognition Award fromAnimal Art Competition and her decent work "Scream" was introduced by CMYK MAGAZINE as CMYK TOP 100 creative 54. My portfolio website is here! http://youmeecho.com/ You MEe Cho Studio Page https://www.facebook.com/youmeechostudio Portfolio web blog is here http://youmeecho.wordpress.com/ http://youmeecho.see.me/ You can order my illustration right now! come to visit here down below. http://society6.com/YoumeeCho You Mee Cho ILLUSTRATION STUDIO joined Society6 on May 3, 2012
More
You Mee Cho is an illustrator and a visual artist. She is in Illustration at Parsons the New School for Design. She had several solo shows in New York and participated in many group exhibitions in New York. She is working actively as a representative woman artist based on New York area. Her work awarded New York audience award Top 10 awarded from ART STUDENT EXHIBITION IN NY, Special recognition Award fromAnimal Art Competition and her decent work "Scream" was introduced by CMYK MAGAZINE as CMYK TOP 100 creative 54.
My portfolio website is here! http://youmeecho.com/
You MEe Cho Studio Page
https://www.facebook.com/youmeechostudio
Portfolio web blog is here http://youmeecho.wordpress.com/
http://youmeecho.see.me/
You can order my illustration right now! come to visit here down below. http://society6.com/YoumeeCho
You Mee Cho ILLUSTRATION STUDIO joined Society6 on May 3, 2012.