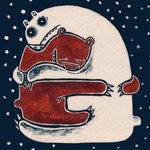 CreaturesStudio
http://www.yuliaruditskaya.com/ About the artist: Born in Minsk, Belarus, Yulia Ruditskaya's whimsical style of animation and illustration have been screened at festivals from France to Seoul, gaining wide recognition around the world. Since 2002, Yulia has worked as а director, animator, illustrator and designer for various independent projects for brands, musicians, educational and non-profit clients. CreaturesStudio joined Society6 on August 26, 2014
More
http://www.yuliaruditskaya.com/
About the artist:
Born in Minsk, Belarus, Yulia Ruditskaya's whimsical style of animation and illustration have been screened at festivals from France to Seoul, gaining wide recognition around the world.
Since 2002, Yulia has worked as а director, animator, illustrator and designer for various independent projects for brands, musicians, educational and non-profit clients.
CreaturesStudio joined Society6 on August 26, 2014.