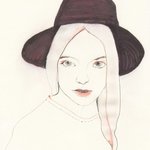 yumi taniguchi
Hello! I make illustrations and textile printings. and design. blog:http://facesofberlin.wordpress.com I live in Kyoto Japan. (Berlin--2011-2012) Born 1984 Japan -Education Ueda College of Fashion 2005 Masa Mode Academy of Art (illustration school) 2008 -Experience fashion design(2005, 2010) textile print design and illustration(2006-2008) yumi taniguchi joined Society6 on November 20, 2013
More
Hello! I make illustrations and textile printings. and design.
blog:http://facesofberlin.wordpress.com
I live in Kyoto Japan. (Berlin--2011-2012)
Born 1984 Japan
-Education Ueda College of Fashion 2005 Masa Mode Academy of Art (illustration school) 2008
-Experience fashion design(2005, 2010) textile print design and illustration(2006-2008)
yumi taniguchi joined Society6 on November 20, 2013.