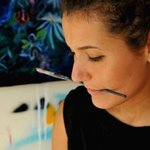 Zara Diniz
Zara Diniz is a Toronto-based artist recognized for her work as a painter and muralist. Ever since picking up a paintbrush at the age of five, and leading up to -- and beyond -- her professional training as an artist at the Ontario College of Art & Design, Zara has been fascinated with the physical properties of paint, the timeliness of the painting process, and her ability to manipulate both in her quest to reproduce the familiar and the recognizable within a painterly matrix. Her work is deeply influenced by her travels around the world, which have introduced her to new environments and ways of living. These visits have invariably provided her with a robust memory-collection of individuals, scenes, colours, and patterns, which she incorporates ever-so-subtly into her paintings. Indeed, by playing with space and perception, through a combination of classical realism and painterly expressionism, Zara's works often have a fleeting, surrealist quality, as figures emerge from and simultaneously fade into their painterly surroundings. She hopes to bring back an appreciation for the beauty of form and colour, and their fundamental role in the reproduction -- and recreation -- of emotional and experiential associations in the mind. Zara can be reached at info@zaradiniz.com. Zara Diniz joined Society6 on July 31, 2013
More
Zara Diniz is a Toronto-based artist recognized for her work as a painter and muralist.
Ever since picking up a paintbrush at the age of five, and leading up to -- and beyond -- her professional training as an artist at the Ontario College of Art & Design, Zara has been fascinated with the physical properties of paint, the timeliness of the painting process, and her ability to manipulate both in her quest to reproduce the familiar and the recognizable within a painterly matrix.
Her work is deeply influenced by her travels around the world, which have introduced her to new environments and ways of living. These visits have invariably provided her with a robust memory-collection of individuals, scenes, colours, and patterns, which she incorporates ever-so-subtly into her paintings. Indeed, by playing with space and perception, through a combination of classical realism and painterly expressionism, Zara's works often have a fleeting, surrealist quality, as figures emerge from and simultaneously fade into their painterly surroundings.
She hopes to bring back an appreciation for the beauty of form and colour, and their fundamental role in the reproduction -- and recreation -- of emotional and experiential associations in the mind.
Zara can be reached at info@zaradiniz.com.
Zara Diniz joined Society6 on July 31, 2013.