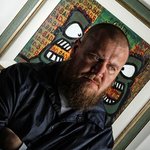 zekeosuave
Zeke earned the moniker "Zeke" while in the Army. Mom and Dad had named him Jeffrey Scott Rhodes, but somehow – at 20 years old – "Zeke" seemed like a better fit. He first picked up a "brush" (fingers) at the tender age of 18 months. The paint was anything butt. Mom would happily retell the story many times. Dad – not so much. Young Zeke managed to decorate the naked wall next to his crib with a magical concoction of poo and magic. It was magical. Many years later, after proper schooling, military service, travels, general freedom and some life experience, Zeke learned the "correct" way to paint while an undergraduate. He rejected these teachings and decided to return to his earliest beginnings. The joy. The freedom. The anti-fine art of his youth. This is my art. Poo. Joy. Enjoy. zekeosuave joined Society6 on February 11, 2013
More
Zeke earned the moniker "Zeke" while in the Army. Mom and Dad had named him Jeffrey Scott Rhodes, but somehow – at 20 years old – "Zeke" seemed like a better fit.
He first picked up a "brush" (fingers) at the tender age of 18 months. The paint was anything butt. Mom would happily retell the story many times. Dad – not so much. Young Zeke managed to decorate the naked wall next to his crib with a magical concoction of poo and magic. It was magical.
Many years later, after proper schooling, military service, travels, general freedom and some life experience, Zeke learned the "correct" way to paint while an undergraduate. He rejected these teachings and decided to return to his earliest beginnings.
The joy. The freedom. The anti-fine art of his youth.
This is my art. Poo. Joy.
Enjoy.
zekeosuave joined Society6 on February 11, 2013.
zekeosuave's Store
133 results
Filter