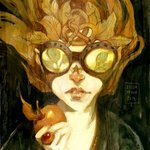 Zelda Devon
I am Zelda Devon, a New York Times Bestselling illustrator living in Los Angeles. I have a decade's worth of commercial branding experience, bringing a darkly whimsical edge to storyboards, concept art, advertising and typography. The focus centers on lush color-rich storytelling, enchanting and engaging the viewer. When you need pitch boards, storyboards, book covers, or a package design to sell your soap, spirits, or chocolates, I'm here. I'd love to work with you. I'm currently accepting freelance illustration and lettering work, whimsical or otherwise. I'm also available for speaking engagements, large and small. Let's collaborate! Zelda Devon joined Society6 on December 17, 2014
More
I am Zelda Devon, a New York Times Bestselling illustrator living in Los Angeles. I have a decade's worth of commercial branding experience, bringing a darkly whimsical edge to storyboards, concept art, advertising and typography.
The focus centers on lush color-rich storytelling, enchanting and engaging the viewer. When you need pitch boards, storyboards, book covers, or a package design to sell your soap, spirits, or chocolates, I'm here. I'd love to work with you.
I'm currently accepting freelance illustration and lettering work, whimsical or otherwise. I'm also available for speaking engagements, large and small. Let's collaborate!
Zelda Devon joined Society6 on December 17, 2014.
Zelda Devon's Store
60 results
Filter