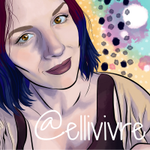 Elli Vivre
Hi! My name is Elli Vivre. You can follow me on Instagram @ellivivre, Tumblr @ellivivre, and my Facebook page is www.facebook.com/ElliVivre/ I am happily engaged and overjoyed to be a new mother as of February 2016. My favorite mediums are ink and colored pencil, and I adore bright colors. I love comics, and am most heavily inspired by Fiona Staples' character design in Saga, and the Manga Nausicaa of the Valley of the Wind by Hayao Miyazaki (A.k.a the man responsible for Spirited Away, Princess Mononoke, Kiki's Delivery Service, and most of those other gorgeous Studio Ghibli movies)- Miyazaki's artwork is absolutely gorgeous and if I could one day be half that good, I'd be over the moon. For portraits I combine realism and a strong focus on correct proportions with stylized linework and exagerated colors, and for abstract works I do pretty much whatever I want. Lately I've been experimenting with "Glitched" landscapes and using geometric panels to invert the colors in some parts of my piece. Elli Vivre joined Society6 on April 9, 2016
More
Hi! My name is Elli Vivre. You can follow me on Instagram @ellivivre, Tumblr @ellivivre, and my Facebook page is www.facebook.com/ElliVivre/
I am happily engaged and overjoyed to be a new mother as of February 2016.
My favorite mediums are ink and colored pencil, and I adore bright colors.
I love comics, and am most heavily inspired by Fiona Staples' character design in Saga, and the Manga Nausicaa of the Valley of the Wind by Hayao Miyazaki (A.k.a the man responsible for Spirited Away, Princess Mononoke, Kiki's Delivery Service, and most of those other gorgeous Studio Ghibli movies)- Miyazaki's artwork is absolutely gorgeous and if I could one day be half that good, I'd be over the moon.
For portraits I combine realism and a strong focus on correct proportions with stylized linework and exagerated colors, and for abstract works I do pretty much whatever I want. Lately I've been experimenting with "Glitched" landscapes and using geometric panels to invert the colors in some parts of my piece.
Elli Vivre joined Society6 on April 9, 2016.