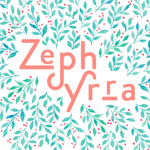 Zephyrra
Hi there! I'm Laura. I create colorful watercolor illustrations inspired by nature. My designs typically incorporate floral decorations and shiny golden embellishments.
Fun facts about me:
I live with a bunny and he's my cutest source of inspiration.
On my way to become a crazy plant lady.
Always hungry.
Always barefoot.
---
Pinterest: https://www.pinterest.it/zephyrra_/
Instagram: www.instagram.com/zephyrra_
Facebook: www.facebook.com/zephyrra.lv
Read more
Mugs by Zephyrra
81 results
Filter