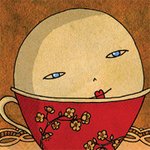 Zime Illustrations
Hi! My name is Ximena Carreira but I like to be called Zime. I live in Buenos Aires, Argentina since the day I was born, in 1974. With my husband Lucas, my daughter Abril and my son Milo, my kitty Java, my notebooks, pencils and acrylics paints, I share my days, nights and dreams. I work as a freelance graphic designer and children illustrator. In last years I've discovered my subtler way of expression creating things with my hands. Hola! mi nombre es Ximena Carreira, pero prefiero que me llamen Zime. Vivo en Buenos Aires - Argentina desde el día que nací allá por el ´74. Junto con mi esposo, Lucas, mis hijos, Abril y Milo, mi gata, Java, mis cuadernos, pinceles y acrílicos; comparto mis dias, mis noches y mis sueños. Trabajo en forma independiente como diseñadora gráfica e ilustradora infantil. En los últimos años descubrí mi manera mas sutil de expresión creando cosas con mis manos... Zime Illustrations joined Society6 on October 3, 2011
More
Hi! My name is Ximena Carreira but I like to be called Zime. I live in Buenos Aires, Argentina since the day I was born, in 1974. With my husband Lucas, my daughter Abril and my son Milo, my kitty Java, my notebooks, pencils and acrylics paints, I share my days, nights and dreams. I work as a freelance graphic designer and children illustrator. In last years I've discovered my subtler way of expression creating things with my hands.
Hola! mi nombre es Ximena Carreira, pero prefiero que me llamen Zime. Vivo en Buenos Aires - Argentina desde el día que nací allá por el ´74. Junto con mi esposo, Lucas, mis hijos, Abril y Milo, mi gata, Java, mis cuadernos, pinceles y acrílicos; comparto mis dias, mis noches y mis sueños. Trabajo en forma independiente como diseñadora gráfica e ilustradora infantil. En los últimos años descubrí mi manera mas sutil de expresión creando cosas con mis manos...
Zime Illustrations joined Society6 on October 3, 2011.
Canvas by Zime Illustrations
2 results
Filter