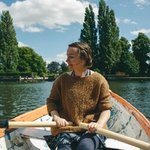 Zoe Mitchell
"Make me cups of tea and sing me songs of the sea and I will love you forever." British lass who loves the outdoors and all things rustic. Lives in Nottingham, England. I used paint and ink (applied with an old fashioned quil) for my artwork. If you would like to request a specific commission, then please do get in touch via email. Zoe Mitchell joined Society6 on July 24, 2015
More
"Make me cups of tea and sing me songs of the sea and I will love you forever."
British lass who loves the outdoors and all things rustic. Lives in Nottingham, England.
I used paint and ink (applied with an old fashioned quil) for my artwork. If you would like to request a specific commission, then please do get in touch via email.
Zoe Mitchell joined Society6 on July 24, 2015.
Zoe Mitchell's Store
32 results
Filter