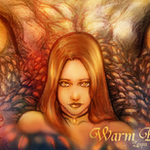 Zosya H. ~LyphejaN7~
Illustrator, concept art, design(wide range), gamer, trying to make a living. Open for suggestions for illustrations(who knows, maybe I can draw something for you(: ), interested in collaborations, other than that drop me a line if you like(: mikadzukiai@gmail.com http://lupussoul.deviantart.com/ http://www.artstation.com/artist/Lypheja Take care~and stay awesome! P.S. I do appreciate feedback, so if you have a minute for few words, just know that I really would appreciate that! Zosya H. ~LyphejaN7~ joined Society6 on July 6, 2014
More
Illustrator, concept art, design(wide range), gamer, trying to make a living.
Open for suggestions for illustrations(who knows, maybe I can draw something for you(: ), interested in collaborations, other than that drop me a line if you like(: mikadzukiai@gmail.com http://lupussoul.deviantart.com/ http://www.artstation.com/artist/Lypheja
Take care~and stay awesome!
P.S. I do appreciate feedback, so if you have a minute for few words, just know that I really would appreciate that!
Zosya H. ~LyphejaN7~ joined Society6 on July 6, 2014.