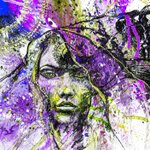 Zuzana Petrakova
Emerging visual artist based in Bratislava, Slovakia. You can find more about her work on www.zuzanapetrakova.com For Zuzana, art is necessity. She finds it a way to think, to develop ideas and contemplate experience. Art for her has power of deeper understanding, seeing things from different perspective. Trough art she explores the invisible boundary between the outside world and human psyche. Moments, when mind and nature become united, powerful impulse of joy enables spontain expression. Her passion for colors make her artworks vivid, pulsing in rhythm of universe. Subject of her artworks varies from abstracted landscapes to abstract art. Never-ending cycle of outer-inner inspiration gives her endless possibilities of finding new forms. She use art as a way to be thankful and to cherish. Purpose of her artwork is to reveal others her inner vision, specific seeing of nature, precious moments of connection. To share. To inspire and to allow to dream. To help others seeing beauty in difficult times. Give hope for well-being and good power. Zuzana Petrakova joined Society6 on December 8, 2014
More
Emerging visual artist based in Bratislava, Slovakia.
You can find more about her work on www.zuzanapetrakova.com
For Zuzana, art is necessity. She finds it a way to think, to develop ideas and contemplate experience. Art for her has power of deeper understanding, seeing things from different perspective. Trough art she explores the invisible boundary between the outside world and human psyche. Moments, when mind and nature become united, powerful impulse of joy enables spontain expression. Her passion for colors make her artworks vivid, pulsing in rhythm of universe. Subject of her artworks varies from abstracted landscapes to abstract art. Never-ending cycle of outer-inner inspiration gives her endless possibilities of finding new forms. She use art as a way to be thankful and to cherish. Purpose of her artwork is to reveal others her inner vision, specific seeing of nature, precious moments of connection. To share. To inspire and to allow to dream. To help others seeing beauty in difficult times. Give hope for well-being and good power.
Zuzana Petrakova joined Society6 on December 8, 2014.