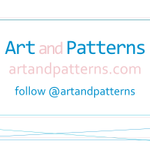 Art and Patterns by Dee
Hello All Art and Pattern lovers. Follow me @artandpatterns
Welcome to my creative hub for bold colourful original art and surface patterns . I create surface and textile patterns for all your interiors furnishings and spaces.
Current creating digital surface patterns in Affinity.
Ideas are inspired by Life Experiences, the Natural and Man-Made environments.
Instead of hiding ideas and patterns, I decided to take a deep breath and give them a viewing space on Society6, for everyone to appreciate.
Hope you join me on the colourful artistic journey .
Dee
Follow me on Instagram| Twitter | Facebook Pages - @artandpatterns Society6/artandpatterns
Read more