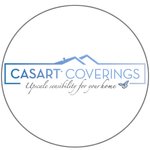 CASART
Hello, I'm C. Ashley Spencer, artist and owner of Casart. Coordinating décor accessories are now available that complement the existing removable and reusable wallcoverings offered by Casart Coverings. With over 100 different commercial-grade, high-quality, 52" wide wallcovering designs, be sure to check them all out at
https://www.casartcoverings.com
Bookmark our S6 Decor Shop link for coordinating accessories: https://society6.com/casart/?curator=casart
My artwork ranges from bold and colorful to subtle and sophisticated with illustrative to decorative finishing styles and a mix of hand-painting and digital remastering.
I'm inspired by Nature and graphic design and the often overlooked, everyday things, simply seen in a new way.
Follow Casart on social media for new design announcements.
Social: https://www.facebook.com/casartcoverings/ • https://www.pinterest.com/casartcoverings/ • https://www.instagram.com/casartcoverings/ • https://twitter.com/casartcoverings • https://www.linkedin.com/company/casart-coverings-llc/ • https://www.houzz.com/pro/casart/casart-coverings
Contact: contact@casartcoverings.com
Read more