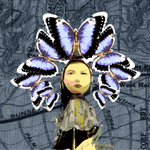 Jennifer Geiger
www.jennifer-geiger.com
Follow me here and on Instagram and tag me (@_jennifer_geiger) if you've made a purchase, I'd love to see it in your home. New art is being released often, you won't want to miss the next piece so please be sure to join my newsletter by visiting www.jennifer-geiger.com
Instagram: @_jennifer_geiger Email: jennifergeigerart@gmail.com
I love to create unique and original artwork that is available for purchase on a variety of products from art prints to home wares to lifestyle accessories.
My inspiration comes from nature, travels, fashion, people and cultures, and is evident throughout my artwork, an artistic style of color, character and sophistication.
Brighten your home with an original design or discover the perfect gift.
VIEW WORK BY INDIVIDUAL COLLECTIONS!
THANK YOU for visiting! I hope you find something you LOVE!
Copyright Jennifer Geiger. May not be copied or distributed without written permission.
Read more