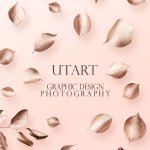 UtArt
Floral and tropical patterns with colours as colourful as life itself, luxury backgrounds, beautiful landscape and stilllife photography for every situation, and every feeling. This is the hallmark of UtART. Please share photos of your purchases! I'd like to see my art in your home! Facebook: www.facebook.com/UtArt.Home Instagram: www.instagram.com/utart_home UtArt joined Society6 on November 24, 2014
More
Floral and tropical patterns with colours as colourful as life itself, luxury backgrounds, beautiful landscape and stilllife photography for every situation, and every feeling.
This is the hallmark of UtART.
Please share photos of your purchases! I'd like to see my art in your home! Facebook: www.facebook.com/UtArt.Home Instagram: www.instagram.com/utart_home
UtArt joined Society6 on November 24, 2014.