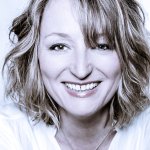 Iris Lehnhardt
Iris Lehnhardt is a German visual artist, who studied fine art for many years in Germany. Her aesthetic is a homage to a variety of colours, shapes and forms often found in nature. Iris is highly skilled using various media, such as painting, photography and digital art, often combining them in her artwork. Painting however is her passion and preferred medium, in which her subtle and exquisite colour hues can be seen. Her artistic expression is often intuitive and gestural. Each artwork has its own individual process, as her paintings are created from experimenting and combining elements of collage, wax, acrylics, charcoal, grafite, chalk and ink. Iris is well known for her creative expression of marks and brush strokes with her unique touch of minimalist detail. Her art is exhibited and sold all over the world. https://www.irislehnhardtfineart.com/ | https://www.instagram.com/irislehnhardt | https://www.pinterest.de/irislehnhardt | My other s6 shop: http://society6.com/IrisLehnhardt Iris Lehnhardt joined Society6 on September 10, 2014
More
Iris Lehnhardt is a German visual artist, who studied fine art for many years in Germany. Her aesthetic is a homage to a variety of colours, shapes and forms often found in nature. Iris is highly skilled using various media, such as painting, photography and digital art, often combining them in her artwork. Painting however is her passion and preferred medium, in which her subtle and exquisite colour hues can be seen.
Her artistic expression is often intuitive and gestural. Each artwork has its own individual process, as her paintings are created from experimenting and combining elements of collage, wax, acrylics, charcoal, grafite, chalk and ink. Iris is well known for her creative expression of marks and brush strokes with her unique touch of minimalist detail. Her art is exhibited and sold all over the world.
https://www.irislehnhardtfineart.com/ | https://www.instagram.com/irislehnhardt | https://www.pinterest.de/irislehnhardt | My other s6 shop: http://society6.com/IrisLehnhardt
Iris Lehnhardt joined Society6 on September 10, 2014.