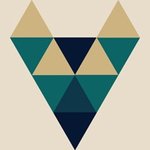 PELAXY
:: Modern Geometric Abstract Designs :: PELAXY stands for PELA the designer Petra Lang. XY stands for the geometric design. The X and Y axis used in graphics. Vist my other store PELA >> https://society6.com/peladesign Thank you for your interest! Follow: https://www.pinterest.com/petralangart/ https://www.facebook.com/petralangart PELAXY joined Society6 on November 13, 2017
More
:: Modern Geometric Abstract Designs ::
PELAXY stands for PELA the designer Petra Lang. XY stands for the geometric design. The X and Y axis used in graphics.
Vist my other store PELA >> https://society6.com/peladesign
Thank you for your interest!
Follow: https://www.pinterest.com/petralangart/ https://www.facebook.com/petralangart
PELAXY joined Society6 on November 13, 2017.