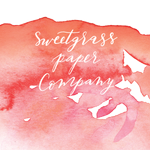 SweetgrassPaperCompany
Hello! My Name is Katie Eney and I'm the founder of Sweetgrass Paper Company, an illustration and design brand. I'm a calligrapher, designer and artist living in beautiful Montana with my farmer husband and our twin girls. I draw inspiration from the raw beauty of the mountains, lakes, and wildflowers around our home. I'm a workaholic and a lifelong bibliophile. I love anything beautiful, everything L. M. Montgomery, and have the worst sailor mouth. You can find my work in retail stores like Target and Pottery Barn Kids, as well as on Minted and in my Society6 shop. /// www.sweetgrasspapercompany.com / / / Social: http://instagram.com/sweetgrasspapercompany https://www.facebook.com/sweetgrasspapercompany Contact: sweetgrasspapercompany@gmail.com SweetgrassPaperCompany joined Society6 on December 14, 2015
More
Hello! My Name is Katie Eney and I'm the founder of Sweetgrass Paper Company, an illustration and design brand. I'm a calligrapher, designer and artist living in beautiful Montana with my farmer husband and our twin girls. I draw inspiration from the raw beauty of the mountains, lakes, and wildflowers around our home. I'm a workaholic and a lifelong bibliophile. I love anything beautiful, everything L. M. Montgomery, and have the worst sailor mouth.
You can find my work in retail stores like Target and Pottery Barn Kids, as well as on Minted and in my Society6 shop.
///
www.sweetgrasspapercompany.com
/ / /
Social: http://instagram.com/sweetgrasspapercompany https://www.facebook.com/sweetgrasspapercompany
Contact: sweetgrasspapercompany@gmail.com
SweetgrassPaperCompany joined Society6 on December 14, 2015.