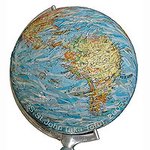 Tofu
My artwork has two focuses; mixed media collage and painting.
2011 marked the 10th Anniversary of my work with maps. I have always used old maps in my collages and incorporated map based ideas into my art. In January of 2001 I experimented with a collage using only maps. The success of the experiment and the resulting piece changed the direction of my work. Much of the map work takes its inspiration from other traditional art forms using repetitive patterns, in particular quilts and other textiles. In 2009 the patterns used in my collage work started to take on a more painterly appearance.
When I paint, my main focus is Western landscape. I spend a great deal of time visiting the desert seeking inspiration.
2011 saw the beginning of a new project where I am creating a map of the year. The year is being mapped by creating 365 small pieces of art. One piece of art will be made for each day of the year. When the work is completed, it will be installed in 2012.
The 2011 Project also has a strong autobiographical element as I explore various themes and influences in my life so far. It also is a project where many of the pieces have included ephemera that I have been saving for many years - just waiting for the right moment when I would need them for a piece of art.
Read more