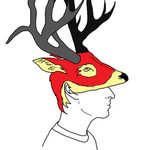 Tom Colmans
I graduated from the Norwich University College of the Arts in July 2009 with a degree in illustration, previously studying other aspects such as Graphic Design, Publishing, Animation and Photography. I've been interested in art and graphics for a long time, especially since being introduced to Whaam! by Roy Lichtenstein in my high school art class.
I have a wide variety of influences, from the rough cut-and-paste aesthetic of punk fanzines from the seventies, right up to the recent work of Shepard Fairey. I am also a fan of classic printing and painting, Goya and Hogarth being two in particular.
I am available for commissions, freelance work, or any form of drawing and illustrating as needs be. I also create my own personal work and books, which may be available soon.
Feel free to browse my site, send me an e-mail, and check out my images and blog.
Read more
Tom Colmans's Store
Filter