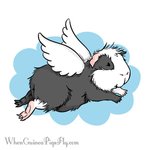 When Guinea Pigs Fly
When Guinea Pigs Fly features the whimsical artwork (including the ever-popular original 'Otterly Romantic' otters holding hands painting!) of artist, illustrator and guinea pig fan, Lesley Anderson. WGPF has but one goal in mind - to inspire happiness as the result of seeing something ridiculously cute. If you burst out laughing from seeing anything here, mission accomplished!
Do you love guinea pigs, or just cute things in general? Come hang out with the WGPF crew on Facebook! http://www.facebook.com/whenguineapigsfly
Thank you so much for visiting the When Guinea Pigs Fly Society6 store and embrace the cute in your life!
Read more
When Guinea Pigs Fly's Store
Filter