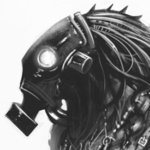 I'm a concept artist & illustrator from Perth, Australia who loves drawing monsters! As well as working freelance designing creatures for games, I'm currently creating artwork independently for my art projects EXECUTION, My Shadows & SCARY SKETCHES. Other things that keep me busy are exhibiting at conventions around Australia & making art videos and tutorials. To see all of my work and order signed prints directly from me, check out http://www.austenmengler.com/ Other Links: - deviantART: http://austenmengler.deviantart.com/ - Facebook Page: https://www.facebook.com/TheArtofAustenMengler - Instagram: https://instagram.com/austenmengler - YouTube: https://www.youtube.com/user/LordNetsua joined Society6 on July 18, 2012
More
I'm a concept artist & illustrator from Perth, Australia who loves drawing monsters! As well as working freelance designing creatures for games, I'm currently creating artwork independently for my art projects EXECUTION, My Shadows & SCARY SKETCHES. Other things that keep me busy are exhibiting at conventions around Australia & making art videos and tutorials.
To see all of my work and order signed prints directly from me, check out http://www.austenmengler.com/
Other Links:
deviantART: http://austenmengler.deviantart.com/
Facebook Page: https://www.facebook.com/TheArtofAustenMengler
Instagram: https://instagram.com/austenmengler
YouTube: https://www.youtube.com/user/LordNetsua
joined Society6 on July 18, 2012.