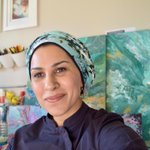 Nadia J Art
Nadia Janjua is an emerging Artist, practicing Architect, and an Art Educator based in the Washington, D.C. area. She received her Bachelor of Fine Arts degree from the George Washington University (Washington, D.C.) in 2000, and her Master of Architecture degree from the New Jersey Institute of Technology (Newark, NJ) in 2005. Nadia's passion to beautify the world with her hands, combined with her fascination of design and technology led her to startup an art and design-based business in 2011, called Nadia J Art.
Her art work is inspired by her deeply spiritual and emotional connection to her faith, as well as the experiences of her life's journey. Ever since she can remember, Nadia has been reflective of the human experience -- from its chaos and despair, to its magnificence and beauty. It is this search for insight and understanding of any moment or event that has led to an infinite source of inspiration for her creative works.
Nadia states, "All of my art work is very personal to me, and essentially it is my soul coming through. I learned how to express myself with colors and forms before I did with words, so painting and drawing have really been a natural extension of my hands and inner workings." Her bright and bold abstract paintings always stem from a personal narrative, yet allow for numerous interpretations, recognizing the unique, ambiguous and ever-changing nature of human expression and experience.
Nadia has been exhibiting her work professionally throughout the United States over the past ten years, and more recently, internationally. She has had numerous works commissioned by private collectors and contributes her art annually to charity events. Nadia's creative works can be viewed at nadiajart.com, facebook.com/nadiajartist, nadiajart.deviantart.com, and the line of handmade products she creates from her paintings can be purchased and viewed on her Etsy shop (shopnadiajart.etsy.com).
Please consider supporting Independent Artists, and thank you for visiting Nadia J Art on Society6!
Read more