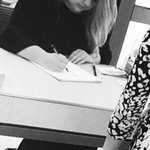 Anna F Sutherland
Anna Sutherland is an illustrator based in Seattle, Washington. Her art ranges from whimsical fashion sketches to custom bridal portraits. Anna works with a variety of mediums - watercolor, gauche, oil, india ink, and pen. Her personal style is largely influenced by dresses of the 1950's and high fashion photography from the likes of Brassï, Norman Parkinson, and Ruven Afanador. Anna is also constantly inspired by music and its fusion with art, particularly hip-hop's current influence on modern street style. -CLIENTS- Glamour Magazine Clinique Eileen Fisher Macy's Anna F Sutherland joined Society6 on July 16, 2016
More
Anna Sutherland is an illustrator based in Seattle, Washington. Her art ranges from whimsical fashion sketches to custom bridal portraits. Anna works with a variety of mediums - watercolor, gauche, oil, india ink, and pen. Her personal style is largely influenced by dresses of the 1950's and high fashion photography from the likes of Brassï, Norman Parkinson, and Ruven Afanador. Anna is also constantly inspired by music and its fusion with art, particularly hip-hop's current influence on modern street style.
-CLIENTS-
Glamour Magazine Clinique Eileen Fisher Macy's
Anna F Sutherland joined Society6 on July 16, 2016.