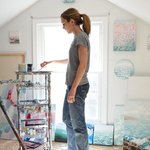 Ann Marie Coolick
annmariecoolick.com | Instagram @annmariecoolick | Ann Marie Coolick is an American painter focusing on contemporary abstractions and landscapes. Her recent body of work references natural elements and organic processes. Using only palette knives, she slathers frosting-like paint layer upon layer onto the canvas, with paint running off the edges resulting in a sculptural, three-dimensional appearance.
Ann Marie has exhibited her work extensively throughout the mid-Atlantic for 13 years including the Arlington Arts Center, Center for the Arts in Manassas, CAMP Rehoboth, Hylton Center for the Performing Arts, the Glen Allen Arts Center, and the Cooley Gallery. She graduated from Virginia Tech Summa Cum Laude with a BA in Studio Art (honors program/painting concentration) and a BS in Marketing Management.
website: annmariecoolick.com instagram: @annmariecoolick
Buy something? Tag me on instagram @annmariecoolick!
Read more
Ann Marie Coolick's Store
Filter