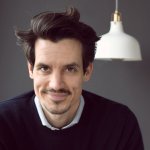 Bastiano
Hi everyone! Thanks for stopping by.
My name is Bastian Groscurth and I'm an illustrator and visual designer currently working out of Cologne, Germany.
I've been drawing stuff, doodling little logos and playing around with lettering pretty much all my life. I love observing and absorbing the world around me and put tiny bits of it on paper or into the computer. Funny animals, cool characters, classic cars and suburban architecture are the motives that inspire me the most.
Although my finished art is mostly digital, it always starts out with my all-time favorite tool, the pencil, my personal peacemaker. Usually the results of my drawing and sketching end up as vector illustrations, since vector's where my heart is! I love desaturated colors with minimal bright accents. Also, I'm always in search for the perfect fusion between graphic lines and organic curves.
I hope you enjoy my work. Come back for news.
And check out my Instagram account: https://www.instagram.com/bastiano.draws/
Read more