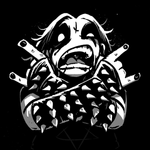 Belzebubs
Belzebubs is a trve kvlt documentary in comic strip form. We warmly welcome you to join our ranks and dwell in deeper into the very (non-existent?) soul of black metal. Belzebubs updates every Friday. JP Ahonen is the author of the graphic novel Sing No Evil (Perkeros) and Villimpi Pohjola Sunday strip, published in Finland (yes, the Moomin-head-shaped country in Scandinavia). Belzebubs is his improvised therapy project, a playground for silly ideas and an exercise in simply getting SHIT DONE. JP enjoys cooking, having a few pints with friends and getting tattooed but hates writing biographies in third person. www.belzebubs.com www.facebook.com/belzebubsofficial/ www.jpahonen.com Belzebubs joined Society6 on May 17, 2017
More
Belzebubs is a trve kvlt documentary in comic strip form. We warmly welcome you to join our ranks and dwell in deeper into the very (non-existent?) soul of black metal. Belzebubs updates every Friday.
JP Ahonen is the author of the graphic novel Sing No Evil (Perkeros) and Villimpi Pohjola Sunday strip, published in Finland (yes, the Moomin-head-shaped country in Scandinavia). Belzebubs is his improvised therapy project, a playground for silly ideas and an exercise in simply getting SHIT DONE. JP enjoys cooking, having a few pints with friends and getting tattooed but hates writing biographies in third person.
www.belzebubs.com www.facebook.com/belzebubsofficial/ www.jpahonen.com
Belzebubs joined Society6 on May 17, 2017.