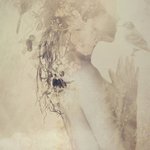 DenisePothierFortin
Denise is an artist be-ing in the flow of cosmic co-creative vibrations. She creates from spirit, tuning in to the light that is the Music of the Spheres. It is her strongest desire to bring healing, and beauty to those who gaze upon her creations. She awakened to art as a method to connect more deeply to source. Inspired by Nature, Yoga and the World of Spirit, she unfolds into the essence that is divine nature. Thank you for viewing. Namaste DenisePothierFortin joined Society6 on March 1, 2015
More
Denise is an artist be-ing in the flow of cosmic co-creative vibrations. She creates from spirit, tuning in to the light that is the Music of the Spheres.
It is her strongest desire to bring healing, and beauty to those who gaze upon her creations.
She awakened to art as a method to connect more deeply to source. Inspired by Nature, Yoga and the World of Spirit, she unfolds into the essence that is divine nature.
Thank you for viewing. Namaste
DenisePothierFortin joined Society6 on March 1, 2015.