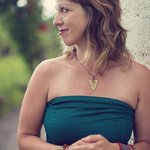 Flora Bowley
Flora Bowley is an internationally recognized painter, teacher, author, and inspirationalist. Her transformational approach to the creative process celebrates brave intuitive expression and honors the connection between body, mind and spirit. Blending over twenty years of professional painting experience with her background as a yoga instructor, massage therapist and lifelong joy seeker, Flora's art and offerings are infused with a deep sense of soul, passion and generosity. Flora's vibrant collection of acrylic paintings can be found in galleries and printed on unique product lines sold worldwide. Her popular book, Brave Intuitive Painting (Quarry Books, 2012), is an inspiring guidebook enjoyed by both novice and seasoned painters, and has sold over 30,000 copies. Flora spends her time painting, teaching, writing, dreaming and living among a vibrant community of artists in Portland, OR. To see Flora's art, read her blog and find out more about her book, online courses and retreats, please visit www.florabowley.com. Follow Flora's social media networks here: https://www.facebook.com/florabowleydesigns https://twitter.com/florabowley http://followgram.me/florabowley http://pinterest.com/florabowley Flora Bowley joined Society6 on April 26, 2014
More
Flora Bowley is an internationally recognized painter, teacher, author, and inspirationalist. Her transformational approach to the creative process celebrates brave intuitive expression and honors the connection between body, mind and spirit. Blending over twenty years of professional painting experience with her background as a yoga instructor, massage therapist and lifelong joy seeker, Flora's art and offerings are infused with a deep sense of soul, passion and generosity.
Flora's vibrant collection of acrylic paintings can be found in galleries and printed on unique product lines sold worldwide. Her popular book, Brave Intuitive Painting (Quarry Books, 2012), is an inspiring guidebook enjoyed by both novice and seasoned painters, and has sold over 30,000 copies. Flora spends her time painting, teaching, writing, dreaming and living among a vibrant community of artists in Portland, OR. To see Flora's art, read her blog and find out more about her book, online courses and retreats, please visit www.florabowley.com.
Follow Flora's social media networks here: https://www.facebook.com/florabowleydesigns https://twitter.com/florabowley http://followgram.me/florabowley http://pinterest.com/florabowley
Flora Bowley joined Society6 on April 26, 2014.