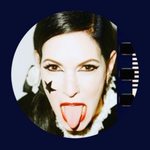 Jill Kargman Hostess Collection
Jill Kargman Hostess Collection: Break Free from the Holiday Hellscape
SiriusXM Host and Odd Mom Out's Jill Kargman has partnered with Society6 in creating the ultimate hostess collection to help you break free from the holiday hellscape.
Whether you're looking to make your dinner party fiercely festive or add a pinch of sass to your boozy brunch, the collection is sure to wow your guests with its "goth meets cheeky" chic aesthetic.
Designed by Society6 artist Awfully Adorable, the line features bold and bright designs paired with hilarious, unfiltered sayings on serving trays, coasters, coffee mugs and throw pillows.
Read more
Jill Kargman Hostess Collection's Store
Filter
Jill Kargman Hostess Collection's Store