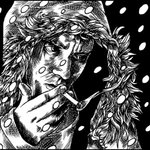 Joshua Kemble
Joshua Kemble is a full-time Art Director, a freelance illustrator, and a Xeric Award Winning Cartoonist. He currently working on writing and illustrating his own comic books, while creating freelance illustrations for t-shirts, magazines and other media. His illustration clients have ranged from Scholastic to Random House and his comic work has been published in various anthologies and self published mini- comics.
An unabashed comic book geek, Kemble was born in 1980 in Tarzana, California, grew up in the Antelope Valley. He received his MFA in Illustration from California State University of Long Beach, and now resides in Lancaster, CA with his wife and fellow artist, Mai S. Kemble, son, and his pug, C.K. Dexter Haven, and dog Bernie
He's an Art Director by day.
More work: http://www.joshuakemble.com Webcomic: http://www.quarterlystories.com
Read more