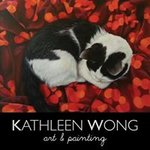 Kathleen Wong Art
I love painting. I explored using different media. Now I paint and create using oils, pencils, watercolors, and pastels. My preferred medium is oil on canvas, because it allows me to play with unlimited colors, layers, and different textures. I find this approach gives me the opportunity to convey emotions and to tell stories. My creative fusion painting allows me to show life in all of its pain, beauty, joy, happiness and ugliness. My style also allows me to convey these feeling in nature subjects as well. All my art represents my memories and my passion for life. Art gives me a way to relax. At times, as I create, I feel like a bird that is totally free to fly in the wind. I hope those who view my artwork will enjoy it. Kathleen Wong Art joined Society6 on July 24, 2015
More
I love painting. I explored using different media. Now I paint and create using oils, pencils, watercolors, and pastels. My preferred medium is oil on canvas, because it allows me to play with unlimited colors, layers, and different textures. I find this approach gives me the opportunity to convey emotions and to tell stories.
My creative fusion painting allows me to show life in all of its pain, beauty, joy, happiness and ugliness. My style also allows me to convey these feeling in nature subjects as well.
All my art represents my memories and my passion for life.
Art gives me a way to relax. At times, as I create, I feel like a bird that is totally free to fly in the wind.
I hope those who view my artwork will enjoy it.
Kathleen Wong Art joined Society6 on July 24, 2015.