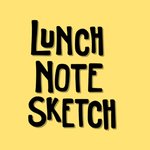 Lunch Note Sketch
Quirky, positive, kid-friendly illustrations. Lunch Note Sketch is a parenting initiative that focuses on creativity and how you can capture the attention of your children and provide a positive experience in everyday life. As a father, and the creator of Lunch Note Sketch, my mission is twofold: 1) Create lunch notes for my children and 2) Inspire a global community of parents to spend just a few extra minutes doing something positive for their children in order to create lasting memories. Learn more at www.LunchNoteSketch.com Lunch Note Sketch joined Society6 on January 26, 2017
More
Quirky, positive, kid-friendly illustrations.
Lunch Note Sketch is a parenting initiative that focuses on creativity and how you can capture the attention of your children and provide a positive experience in everyday life. As a father, and the creator of Lunch Note Sketch, my mission is twofold:
Create lunch notes for my children and
Inspire a global community of parents to spend just a few extra minutes doing something positive for their children in order to create lasting memories.
Learn more at www.LunchNoteSketch.com
Lunch Note Sketch joined Society6 on January 26, 2017.