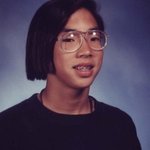 Michael C. Hsiung
Instagram: @michaelchsiung My name is Michael C. Hsiung, and I'm an illustrator, drawer, artist person. I was born in Chinatown in Downtown Los Angeles, and I grew up in the San Fernando Valley. I grew up skateboarding, listening to heavy metal, collecting comics, and playing D&D. All the art is my own. I am a self taught artist with little to no knowledge of actual anatomy. I tend to favor the pen and pencil on paper type of thing, but am warming up using more digital ways. I've done t-shirts, posters, and collaborated with various companies, but this is where I get to just load up anything I just wanna see someone wear. I'm influenced by mythology, mineralogy, fantasy, cartography, Dungeons & Dragons and all things in that nature. www.michaelchsiung.com Instagram: @michaelchsiung Michael C. Hsiung joined Society6 on April 14, 2009
More
Instagram: @michaelchsiung
My name is Michael C. Hsiung, and I'm an illustrator, drawer, artist person. I was born in Chinatown in Downtown Los Angeles, and I grew up in the San Fernando Valley. I grew up skateboarding, listening to heavy metal, collecting comics, and playing D&D. All the art is my own. I am a self taught artist with little to no knowledge of actual anatomy. I tend to favor the pen and pencil on paper type of thing, but am warming up using more digital ways. I've done t-shirts, posters, and collaborated with various companies, but this is where I get to just load up anything I just wanna see someone wear. I'm influenced by mythology, mineralogy, fantasy, cartography, Dungeons & Dragons and all things in that nature.
www.michaelchsiung.com Instagram: @michaelchsiung
Michael C. Hsiung joined Society6 on April 14, 2009.