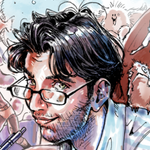 Michael Jared DiMotta Illustrations
A freelance illustrator and cartoon character, please contact me for any of your Illustrations needs. I have experience in a wide spectrum of illustration services including: ~ Personal Commissions, Funny Pet Portraits & Family Portraits ~ Architectural renderings and interior perspective drawings. ~ Sequential work, from children's books to graphic novels. ~ Editorial Illustrations. ~ Fantasy Illustration. (a specialty) Basically I can draw anything you'd like to see on paper :) michaeldimotta.tumblr.com Michael Jared DiMotta Illustrations joined Society6 on July 22, 2013
More
A freelance illustrator and cartoon character, please contact me for any of your Illustrations needs. I have experience in a wide spectrum of illustration services including:
~ Personal Commissions, Funny Pet Portraits & Family Portraits
~ Architectural renderings and interior perspective drawings.
~ Sequential work, from children's books to graphic novels.
~ Editorial Illustrations.
~ Fantasy Illustration. (a specialty)
Basically I can draw anything you'd like to see on paper :)
michaeldimotta.tumblr.com
Michael Jared DiMotta Illustrations joined Society6 on July 22, 2013.
Michael Jared DiMotta Illustrations's Store
153 results
Filter