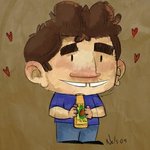 Nelsart
Nelson Diaz is an Animator and Illustrator from Brooklyn, NY.
He has animated and drawn all sorts of stuff for Nickelodeon, Disney, Food Network, Dreamworks and a bunch of other places.
When he's not doing that, he's usually sipping coffee and talking, thinking or drawing something silly.
Visit: nelsart.com nelsart.tumblr.com
Read more
bd95351e-efdc-4597-8c13-2f22c8a05cfc

Popular

5b62bc3c-7516-488c-8ce3-b032caadd64a

Wall Art
You are currently on society6.com.