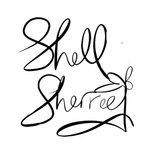 Shell Sherree
www.shellsherreestudio.com www.shellsherree.com
Hi there! As a child, I used to daydream and draw away the hours. Nothing much as changed. A crazy animal lover and besotted mother to my black cat muse Ella, I also have a soft spot for Paris, Italy, fashion, tutus, fluffy things and fluffy gowns, black and white, pink and gold. And spots!
These all inspire my work. It's sometimes light and gentle, sometimes bold and bright, always with a delicate hand and flowing, dancing lines. I hope my art makes you feel happy to be alive just by looking at it.
To get in touch, please contact me on shell@shellsherree.com. You'll find original pretty artworks and other artwares at www.shellsherreestudio.com. Merci, grazie, thank you!
Happiness often sneaks in through a door you didn't know you left open. {John Barrymore}
Read more
Shell Sherree's Store
Filter