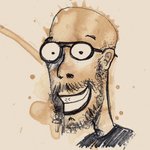 The Coffeemonsters
Hello.
I am Stefan, and i love coffee. And stains. And monsters. Coffeemonsters, obviously. "The coffeemonsters book" is currently funding on kickstarter. Please give it a try. :)
The story:
Once upon a time there was a little copywriter (that is me, Stefan), who spilled a cup of coffee. What emerged from the depth of the darkest espresso available was a small monster. It looked at me and said: "Draw me, draw me, draw meeee!"
And then I drew. The next day I thought "Well, I could do it daily, just to be creative every day." So I took a spoon and spilled some coffee on paper. My colleagues looked at me the way people look at people who go completely nuts. Well, they didn't know.
Since then, after more than 480 coffee-monsters, I use better paper, some of the best coffee and some cool tools to make the monsters more perfect. Also, I write little stories for every single one which makes them a little more worthwhile. And the best part is: It makes people happy!
My favorite moment up until now was, when someone wrote me, that the monsters make her happy everyday. This is so cheerful and because of messages like that I do it again and again. It never gets old for me, because a spill is never the same. The coffeemonsters are my way of expressing my love for comics, coffee and randomness.
So here they are, feel free to tell me what you think and buy a print. :)
Sincerely, Stefan
Read more
The Coffeemonsters's Store
Filter
The Coffeemonsters's Store