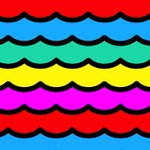 Tyler Spangler
Tyler Spangler's work focuses on the formalist relationship between images removed from their original context. He explores the connotations of color, form, and photography through the medium of digital collage. His designs are colorful and unabashedly chaotic. Over the last two years, Tyler has created five 440 paged books filled with his own designs and worked on countless collaborations internationally. He has a BA in Psychology and is an Art Center College of Design dropout. He ran an illegal punk venue for 13 shows until it got shut down by police. Tyler currently freelances and works with clients in the music, surf, and textile industry. Client List: Active Ride Shop, Alma Har'el, Altru Clothing, Ambsn Clothing, American Greeting Cards, Beach Riot Swimwear, Chanel, Cherry Glazerr, Dazed & Confused Magazine, Denik Notebooks, DimePiece LA, DuJour Magazine, Electric Sunglasses, Food & Wine Magazine, Jack's Surfboards, Kastor & Pollux, Kolle Rebbe Studio, Little Dragon, Marvis Toothepaste, Mowgli Clothing, Nike, Nylon Magazine, Outkast, PacSun, Panda Surfboards, Papyrus Cards, Penguin Books, Penny Skateboards, Perrier, Red Bull Sound Select, Refinery29, Ride Snowboards, RipNDip Clothing, Riverdale Show, Samsung, Sonia Kashuk, Sovrn Skateboards, Swift Agency, SUPERbrand, Textile Art Center, Tumblr, Volcom, Wall Street Journal, Weiden + Kennedy, What Youth Magazine, Xcel Wetsuit. www.tylerspangler.com www.instagram.com/tyler_spangler tylerclintonspangler@gmail.com Tyler Spangler joined Society6 on September 27, 2012
More
Tyler Spangler's work focuses on the formalist relationship between images removed from their original context. He explores the connotations of color, form, and photography through the medium of digital collage. His designs are colorful and unabashedly chaotic. Over the last two years, Tyler has created five 440 paged books filled with his own designs and worked on countless collaborations internationally.
He has a BA in Psychology and is an Art Center College of Design dropout. He ran an illegal punk venue for 13 shows until it got shut down by police. Tyler currently freelances and works with clients in the music, surf, and textile industry.
Client List: Active Ride Shop, Alma Har'el, Altru Clothing, Ambsn Clothing, American Greeting Cards, Beach Riot Swimwear, Chanel, Cherry Glazerr, Dazed & Confused Magazine, Denik Notebooks, DimePiece LA, DuJour Magazine, Electric Sunglasses, Food & Wine Magazine, Jack's Surfboards, Kastor & Pollux, Kolle Rebbe Studio, Little Dragon, Marvis Toothepaste, Mowgli Clothing, Nike, Nylon Magazine, Outkast, PacSun, Panda Surfboards, Papyrus Cards, Penguin Books, Penny Skateboards, Perrier, Red Bull Sound Select, Refinery29, Ride Snowboards, RipNDip Clothing, Riverdale Show, Samsung, Sonia Kashuk, Sovrn Skateboards, Swift Agency, SUPERbrand, Textile Art Center, Tumblr, Volcom, Wall Street Journal, Weiden + Kennedy, What Youth Magazine, Xcel Wetsuit.
www.tylerspangler.com www.instagram.com/tyler_spangler tylerclintonspangler@gmail.com
Tyler Spangler joined Society6 on September 27, 2012.