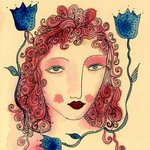 Valerie Galloway
I'm a photographer and painter living in Tucson, Arizona. One of the great things about living here is the wonderful community of artists,and the time and space to work as an artist. I was born in France and have lived in many places including Hawaii, Maryland, Phoenix, Germany, California, New York and now back to Tucson. A little about my work: I am a passionate artist,very much influenced by cinema and old family photos. I love to take a memory or impression and reshape it into a lovely vision. I love going to wonderful museums and interesting gallery exhibtions.
I have exhibited and published my work extensively,including:
Nerve.com La Fotografia(Spain) Not Only Black and White Skin Two American Photographer Photographer's Forum Shots...
Read more
Valerie Galloway's Store
Filter