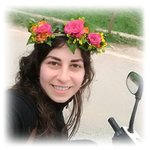 vered rose
Hi everybody! My name is Vered Rose and I'm a print designer and illustrator from Israel. I'm a traveller creator and in the past year I was living in China. I was working there as a designer of fashion accessories. Currently I based in Israel, I do magic and wonders. My motto in life is "Do not be afraid to live, always move forward and shed the past for advancing yourself in the future". I live the moment, I do what I love. I always try to learn more about myself and about the environment I live in it. I always strive to meet new people from other cultures and learn every time something new about the world, about the people who live in it, about the Aesthetics that characterizes each locality. My works are inspired by fashion, street art, nature world, human beings, love and everything around me! All my works are based on handmade. I create my illustrations by watercolors and ink, I combine computer work and I'm using textile printing techniques. State of mind! I call people to travel, be exposed to different cultures, explore the world. As a designer and as a person I believe in trusting each other, cooperation and sharing of knowledge, even from a distance, that will promote us to a new social order which is founded on people and on their freedom to roam. vered rose joined Society6 on September 17, 2014
More
Hi everybody!
My name is Vered Rose and I'm a print designer and illustrator from Israel. I'm a traveller creator and in the past year I was living in China. I was working there as a designer of fashion accessories. Currently I based in Israel, I do magic and wonders.
My motto in life is "Do not be afraid to live, always move forward and shed the past for advancing yourself in the future".
I live the moment, I do what I love. I always try to learn more about myself and about the environment I live in it.
I always strive to meet new people from other cultures and learn every time something new about the world, about the people who live in it, about the Aesthetics that characterizes each locality.
My works are inspired by fashion, street art, nature world, human beings, love and everything around me!
All my works are based on handmade. I create my illustrations by watercolors and ink, I combine computer work and I'm using textile printing techniques.
State of mind! I call people to travel, be exposed to different cultures, explore the world. As a designer and as a person I believe in trusting each other, cooperation and sharing of knowledge, even from a distance, that will promote us to a new social order which is founded on people and on their freedom to roam.
vered rose joined Society6 on September 17, 2014.