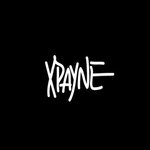 XPayne Art
MORE ART AT: xpayne.com
My attempts to bring out the essence of the things that are relevant to me have been, so it seems, relevant to many others. Since I am not SO different from you, I imagine that you have fears, doubts, anxieties, long days, and things of the like. These layers tend to to complicate life of course. But things could be so much simpler.
I try to show that, visually.
My name is Xavier Payne and I am an illustrator, designer and painter. I was born in Flint, Michigan and I moved with my family to Nashville, Tennessee when I was 5.
Since before I could read, I knew I wanted to be a creative. Some of the earliest things I remember drawing on my own were pictures of Looney Tunes, Ninja Turtles, and Sonic The Hedgehog. I came up with my own spoofs like Rayman the Spider Monkey (which is funny now that I think about it) and "Pip-Squeaks" which was my version of "Peanuts" comic strip by Charles Schulz. At the time I was sure I was going to be a cartoonist. Writing a report on Vincent Van Gogh in the 4th grade changed my perspective on art. The use of color and Van Gogh's philosophy on color was what made me an artist. In High School I was drawing portraits of rappers I saw in XXL and The Source Magazines.
What solidified my stance as an artist was finding out about Al Hirschfeld, Philip Burke, Keith Haring, Kara Walker, Helen Frakenthaler, and Jules Olitski. But what helped me melt the fine art world into my Hip-Hop influences was the first time I saw the "Bombs Over Baghdad" music video by OutKast.
During my training in college I fell in love with the art of storytelling (OutKast reference) more commonly known as illustration. Creating characters and reinterpreting them became my focus as a visual creative. I created a sub-category of my own work that I titled "Black-Pop," which is an expression of American minority perspective mixed with popular culture.
Now I work as a graphic designer and an illustrator. The rest of my story is still unfolding before my eyes. All five of them.
Read more