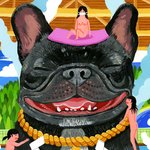 Aaron Meshon
Hello! Aaron Meshon illustrates and designs for editorial, advertising, products, and books around the world. Aaron's first Children's book: " Take me out to the Yakyu" was on the New York Times top 100 of 2013 and received 4 starred reviews. Someday Aaron would like to sell his products from a small sweet potato truck in rural Japan. Aaron lives with his wife and their French Bulldog, Chubu in Brooklyn New York. Thanks for stopping by! Aaron Meshon joined Society6 on December 5, 2013
More
Hello!
Aaron Meshon illustrates and designs for editorial, advertising, products, and books around the world. Aaron's first Children's book: " Take me out to the Yakyu" was on the New York Times top 100 of 2013 and received 4 starred reviews. Someday Aaron would like to sell his products from a small sweet potato truck in rural Japan. Aaron lives with his wife and their French Bulldog, Chubu in Brooklyn New York.
Thanks for stopping by!
Aaron Meshon joined Society6 on December 5, 2013.